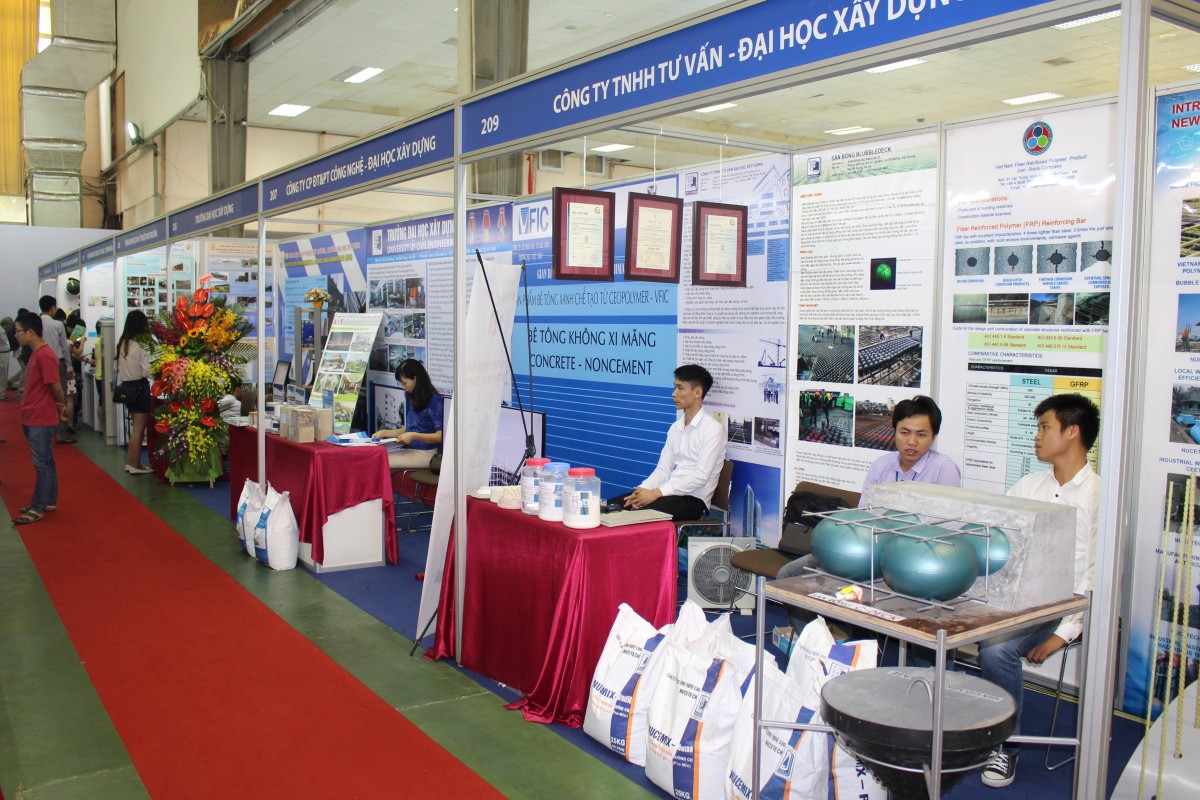 Techmart Fair 2015
The National University of Civil Engineering has become the leading university in the field of construction over the past 60 years. We also adopt a firm position in Vietnam as a center of research and development of advanced science and technology. In addition, we have been inpartnership with numerous international and local universities, research centers and organizations.
Since the academic year of 2015 – 2016, the University has implemented Decree No. 99/2014/NĐ-CP dated 25/10/2014 by Prime Minister on Developing the potentials and Promoting scientific and technology activities in tertiary institutions, focusing on the followings:
• Developing scientific and technological human resources of the University; making scientific research and technological development compulsory tasks to lecturers;
• Setting up interdisciplinaryscientific research groups and developing the  strengths of a multi-disciplinary university in construction field; actively setting up key research projects and programs of different majors, exploiting the University's core strengths to participate in projects and programs at the national level;
• Seeking ways to foster investment in facilities for laboratories and libraries via state and the University budgets;
• Promoting scientific research and technological transfer activities to localities, cooperating with Ministry of Construction, the city of Hanoi and relevant agencies in scientific research; cooperating with international universities to set up research projects;
• Enhancing the cooperation between scientific & technological entities and construction businesses in transferring technology.
The National University of Civil Engineering is proud of its high-qualified staff with good experience, dedication to work and high sense of responsibility to ensure completing the University's political goals. As of October 2015, the National University of Civil Engineering has a staff of 958 people, including 821 lecturers and 202 administrative staff. The teaching staff of the University are high-qualified lecturers and scientists participating in training 14 majors for Bachelor's degree, 15 majors for Master'sdegree and 13 majors for Doctoral degree, including:
•    People's teachers: 09
•    Merit teachers: 67
•    Professors: 24
•    Associate professors: 83
•    Principal lecturers: 127
•    Doctors of science and doctors: 205
•    Masters: > 500
Staff training and improvement are highly valued by the University, therefore its staff is becoming better and better in both quantity and quality.